For over 30 years aquatic facilities worldwide have trusted BECSys controllers to provide safe and attractive water quality. Reliability and ease of use are the foundation of every BECSys controller.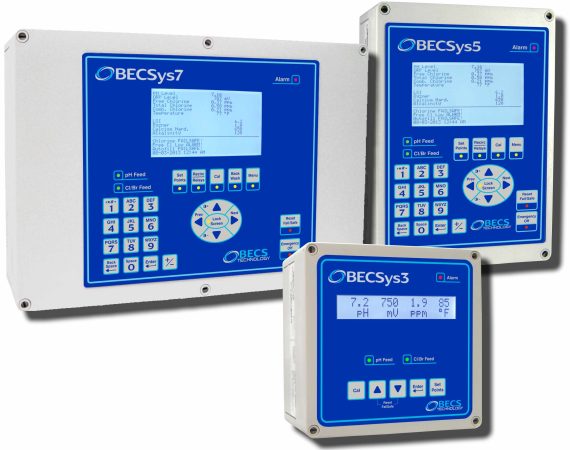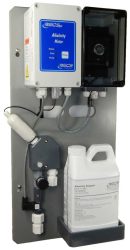 Alkalinity Monitoring & Control
Managing Total Alkalinity is critical for maintaining optimal water balance. With a BECSys Alkalinity Meter Total Alkalinity (TA) can be monitored and controlled, assuring a healthy and enjoyable patron experience while at the same time protecting the substantial investment in facility and equipment.
For TA control BECSys7 and BECSys5 controllers will automatically select between acid and CO₂ for pH control, based upon operator-defined TA set points. Routine, labor-intensive bicarb additions are no longer necessary when TA is kept in control.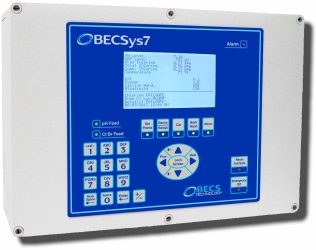 The BECSys7 provides crystal clear water quality with advanced sensing technology and control algorithms for a healthy, safe and enjoyable patron experience. All of the features of the BECSys5 are included with the BECSys7, plus much more.
With its expandable platform many equipment room operations can be integrated, saving both chemicals and energy from the improved performance and efficiency of the entire system. A comprehensive filtration control feature is available, including backwash pit management to prevent overflow.
Operation and maintenance staff will become more efficient with proactive status messaging and BECSys Live, which provides a complete view of the mechanical room and circulation system performance.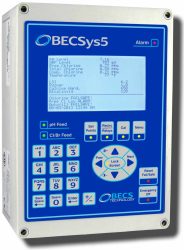 The BECSys5 water chemistry controller includes advanced sensors and features that produce crystal clear water for a healthy, safe and pleasant patron experience.
Optimal water quality achieved with the BECSys5 minimizes chemical usage, often resulting in significant savings. Substantial energy and water savings can also be realized by utilizing the BECSys5's advanced scalable capabilities.
Operation and maintenance staff will save time and be more efficient with proactive status messaging and increased visibility with BECSys Live.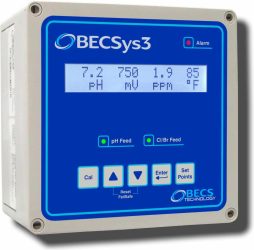 The BECSys3 water chemistry controller will provide years of reliable and accurate chemical control. The large 2-line backlit display clearly shows the status of water quality, and alarms are prominently displayed beneath the readings. Set Points and Calibration screens are easily accessible with the touch of a button.
Although easy to use, the BECSys3 has truly advanced capabilities available. Proactive status messaging is available by adding Communications, which also supports 24/7 access through BECSys Live.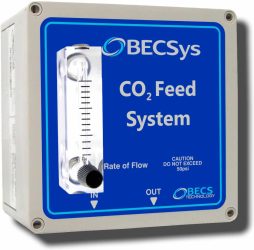 The BECSys CO₂ Feed System is a rugged and reliable solution for aquatic facilities. CO₂ is widely recognized as a safe and easy-to-use method for pH control.
CO₂ can be used very effectively in conjunction with acid to control both pH and alkalinity. BECSys7 and BECSys5 controllers, equipped with a BECSys Alkalinity Meter, will monitor pool TA and automatically select between acid and CO₂ for pH control based upon operator-defined TA set points. In most pools routine bicarb additions to maintain alkalinity will no longer be necessary.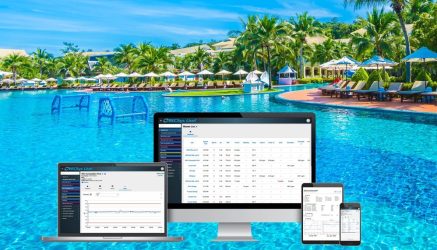 BECSys Live provides simple and secure 24/7 real-time access to BECSys controllers from just about any device: PC, Mac, desktop, laptop, tablet or smartphone.
Monitor status from real-time dashboards and make changes to key settings. Review graphs and run reports. Access user manuals. All in a highly secure environment where all messages are encrypted and accounts protected by 2 factor authentication, without the need for VPNs, port forwarding or publishing the controller IP address.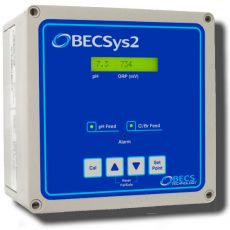 The BECSys2 assures crystal-clear water in a plug-and-play package, complete with flow cell, pH and ORP sensors. Ease of use is the hallmark of this reliable water chemistry controller.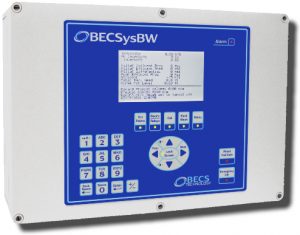 The BECSysBW Automatic Filter Controller provides automatic backwash control of up to 16 filters, continuously monitoring and controlling system pressures, system flow rate, and backwash holding tank levels.